Setting The Pace In
Global Transportation
MOL Auto Carrier Express (MOL ACE)
-
Redefining vehicle transport
.
..
A long history in pioneering technological advances, increasing efficiency and
reducing environmental impact.
Learn more
MOL Ace is part of the MOL Group with an extensive global network of offices and agents and operates one of the world's largest Car Carrier fleet, carrying finished cars, vans, buses, trucks as well as trailers and machinery
in 1965 MOL introduced the worlds first dedicated car carrier vessel and since then continue our innovation. Recent years have seen the introduction of solar assisted generators; LED lighting; low -friction hull paint; redesigned hulls and bows to reduce resistance; propeller propulsion efficiency systems; augmented reality technology.
2017 saw the culmination of this approach with the launch of our new "Flexie" generation of vessels, incorporating the latest technologies and including a flexible deck approach allowing the maximisation of vessel payload.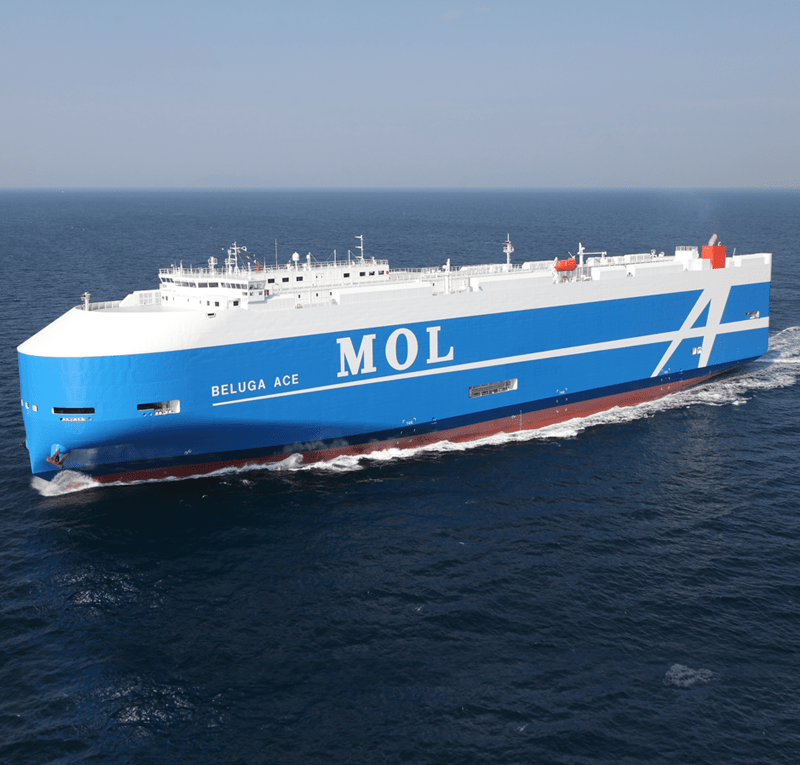 News and updates
COVID-19 - Update
Due to the Global Emergency Covid-19 situation, there are many changeable and unpredictable aspects in the Shipping Imdustry. Whilst we will make every effort to continue business as usual – please note that it may become necessary that…
1. Shipments could be cancelled even after booking confirmation.

2. After departure of loading port, ETA could be significantly delayed and/or may be shipped through a different route than originally planned.

3. In worst case, if cargo cannot be discharged due to POD yard constraints or any other reason related with COVID-19, we may need to temporarily discharge at another port. In case additional cost is incurred we may need to consult with each customer.

MOL will keep our utmost efforts but the situation in each port may change suddenly even after vessel departure from loading port. We appreciate your kind understanding.
MOL's Response towards Coronavirus Disease (COVID-19)
TOKYO-Mitsui O.S.K. Lines, Ltd. (MOL; President & CEO: Junichiro Ikeda) announced that it has implemented "Work-from-Home" program aimed to prevent the spread of coronavirus infection and ensuring the safety of officers and employees working at MOL, along with other measures as outlined below.
1) Outline of "Work-From-Home" program

In principle, MOL officers and employees working in the Head Office will work from home starting from Monday. Other Offices worldwide will be following the guidelines issued by their relevant local Governments, many of which will also be following a "work from home" strategy.
2) Measures for officers and employees
Preventing infection and health care management through implementation of temperature checks, hand washing, and gargling

Conducting ICT tool-driven remote meetings including executive meetings

Suspension/cancellation of meetings, gatherings, training programs, and other events that bring together large groups of people

Postponement of business trips regardless of the destination
MOL continually takes appropriate measures in line with the government policies in the countries it operates, making its top priority the health and safety of customers, employees, and other concerned parties. The company apologizes for any inconvenience caused and appreciates their understanding.
molace.com is using cookies.
This site uses some essential cookies to improve your experience. We do not use cookies from third parties, nor do we keep or use any personal details and we will not allow third party advertising. These cookies will be removed once you leave this site. By continuing to use this site you are consenting to their use.
x