Setting The Pace In
Global Transportation
MOL Auto Carrier Express (MOL ACE)
-
Redefining vehicle transport
.
..
A long history in pioneering technological advances, increasing efficiency and
reducing environmental impact.
Learn more
MOL Ace is part of the MOL Group with an extensive global network of offices and agents and operates one of the world's largest Car Carrier fleet, carrying finished cars, vans, buses, trucks as well as trailers and machinery
in 1965 MOL introduced the worlds first dedicated car carrier vessel and since then continue our innovation. Recent years have seen the introduction of solar assisted generators; LED lighting; low -friction hull paint; redesigned hulls and bows to reduce resistance; propeller propulsion efficiency systems; augmented reality technology.
2017 saw the culmination of this approach with the launch of our new "Flexie" generation of vessels, incorporating the latest technologies and including a flexible deck approach allowing the maximisation of vessel payload.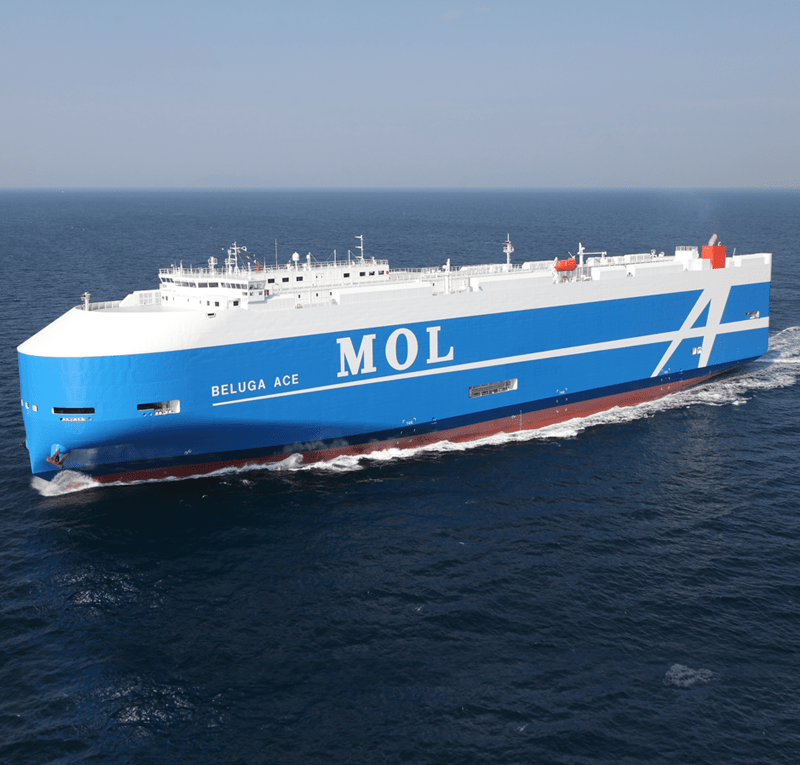 News and updates
Car Carrier Biofuel Live Trials
MOL's Wholly Owned Euro Marine Logistics Starts Sea Trials of Car Carrier Powered by Biofuel

TOKYO-Mitsui O.S.K. Lines, Ltd. (MOL; President & CEO: Takeshi Hashimoto) today announced that its wholly owned subsidiary Euro Marine Logistics N.V. (EML; Headquarters: Belgium) has started sea trials of its operated car carrier, the City Of Oslo, using bio fuel.
EML signed a deal for biofuel supply with GoodFuels (President: Dirk Kronemeijer; Headquarters: the Netherlands), and about 370 tons of biofuel were bunkered on the vessel at the Dutch port of Flushing. The GoodFuels' biofuel (Note 1) can be used on vessels without changing engine specifications, which has the potential to become an environment-friendly alternative fuel.
Biofuel is positioned as an effective alternative to fossil fuels in the MOL Group's new environmental strategy 'MOL Group Environmental Vision 2.1', which was announced on 18th June, 2021. MOL and EML continually take a proactive stance in promoting the Adoption of Clean Alternative Fuels(Image 1) such as biofuel with the aim of reducing greenhouse gas emissions in ocean transport.
(Note 1)
GoodFuels generates ship fuel using raw materials that do not lead to deforestation and food supply issues. This can reduce carbon dioxide emissions by about 80-90% in the well-to-exhaust (from fuel generation to consumption) process.